Boomerang Employees 🪃
In today's job market, there's a growing number of them: people who return to a company after leaving.
These "boomerangs" not only offer unique perspectives during the hiring process but can provide invaluable insight to prospective talent and rehires alike, so we asked a few of ours why they decided to rejoin the System1 team in 2022.
Then & Now
George Huang: Working at System1 from 2017 to 2019 the first time around was an unforgettable experience — that's understating it. I came straight out of college and ended up going into this startup two blocks from the beach called OpenMail (our company's first name) and I spent the first year drinking from the firehose, learning from all these smart and talented people. I remember being genuinely excited to go to work every day because of just how much fun it was to be around such a smart and fun bunch of people.
I left the company to move back to my hometown San Francisco as I really wanted to live some of my 20s back home and spend more time with family. From my time of working at a different tech company in SF, I was able to learn how other teams operate and solve problems and also experience a different company culture. Ultimately, I'm glad I could take some of the goodness from my time away and bring it back to S1.
I saw returning to System1 in 2022 as an opportunity for personal career growth. The opportunity to lead a team here as System1's Manager, Marketing Data Analytics, was very enticing and very fulfilling. Also, I saw a lot of green field ahead of me — a lot of ways to impact the business. I thought there was a lot of room for growth. And that's one of the best things about working here; everyone is empowered to make that impact. If you have an idea, you just raise your hand.
Elise Marion: I started working at Concourse Media — acquired by System1 — in 2016 as a Content Marketing Specialist. I joined System1 during a transitional time as our company was being acquired. It was exciting and educating; there was so much knowledge and experience to share and it felt like we were evolving and growing so fast. There were lots of opportunities to bond with new team members, with happy hours, free lunches and other company events. We had a lot of fun and worked really hard together.
I was Head of Audience Development when I left System1 in 2021 to explore other areas of digital marketing, specifically SEO, email marketing and event planning. When I handed in my resignation, what I remember the most was how many people reached out to me to see what I needed to stay. Everyone said that if I ever wanted to come back to System1 one day I would always be welcome. Those sentiments really stayed with me until the opportunity came.
The two biggest reasons I returned to System1 were the role and the people. There was an opportunity to support the editorial and marketing teams with a liaison role as System1's Content Strategist and I wanted to build my professional career around content strategy, so it seemed like a perfect fit for both my skills and System1. My time away from System1 was enlightening — I learned a lot of new skills that are actually helping with my work now as well. Now, I'm helping to expand our marketing audiences through content strategy. It's exciting to discover new areas to expand our marketing portfolio with data supporting this expansion.
Coming Back to System1
Elise: When I rejoined the System1 team, it felt like I had just come back from a long vacation. My new manager was so supportive. She and my coworkers made it easy to dive right back into my work.
I was thrilled to see so many positive changes had been made in the year I was gone — System1 went public, women in management are empowered with System1 Superwomen (employee resource group), company culture is thriving even after pandemic waves and working from home, and new office openings and company events are bringing coworkers together outside of our daily work.
George: It feels a bit like coming home. It's honestly been great to reunite and work with old friends but also it's been exciting to build the future of the company with new teammates. A lot has changed but at the same time, I think it's still been a lot fun at System1 because of going public — with all this new growth, the new acquisitions, there's just a lot of exciting work to be done.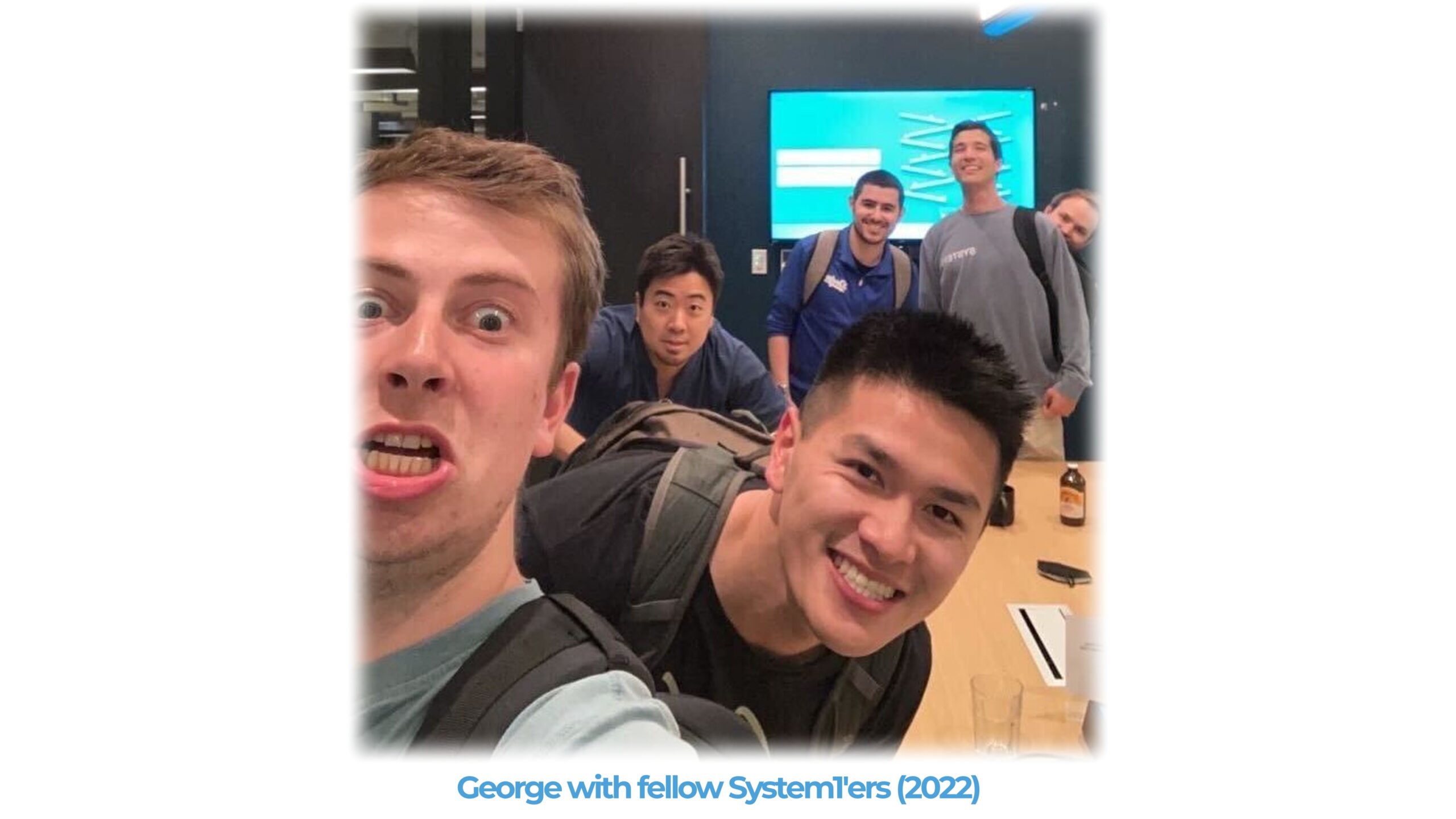 At the same time, I think the team has been doing a great job trying to build the connection. We have frequent visits to the offices; to the Marina del Rey office, the Bellevue office. We're still really fostering that team connection here that System1 is very familiar with.
Michael Spears
Michael Spears is a 3x Emmy award-winning journalist, storyteller and content creator who spent 10 years in TV news. The Seattle native, who has an affinity for sunshine, is happy to now call Los Angeles home.